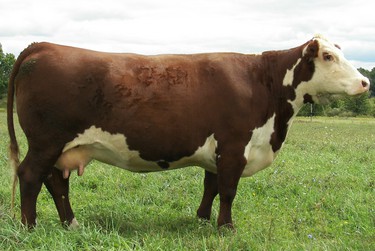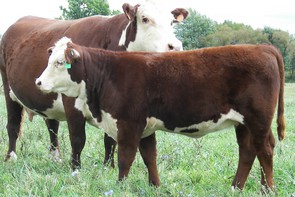 344N (Advisor's Dam) w/ heifer calf - 34X
We sold 344N to Lowen Herefords of Oklahoma as an 8 yr old Donor cow.
In the 2016 Lowen Legacy Complete Dispersal 6 own daughters averaged $11,585 and 10 grand daughters averaged $5,245.
You will find 344N in the pedigree of a majority of our cowherd - including the bulls that we sell.
We not only bred 344N - but we also bred her sire, dam, grand dam, and great grand dam!!
"It takes a lifetime to build a cowherd; and most people don't live long enough to get it done".
Our forty plus years of breeding Polled Herefords is in pursuit of the above quote from a friend and former dairy farmer. Most of our breeding age females were bred here, along with their mothers and grandmothers. Before we put much confidence in our breeding cattle - we need to know where they came from. We continually strive to improve each individual. They must look good and possess enough of those needed traits (fertility, efficiency, soundness, good udders, calving ease, etc) to keep their registered status. We strive to breed only those females that are of 'herd-bull mother' quality!
Reference Cows: