Performance Bulls - with "The Look"!
Calving-ease high growth bulls with breed leading EPDs!
2019 bull calves available -
Call for prices and additional info!
click on Reg # to find pedigree and EPDs

701E P43795150 bw 68; 205 wt 683; 3/22 wt 1207; adj 365 wt 1225; used on our heifers -sold to Deckers
704E P43792945 bw 80; 205 wt 748; 3/22 wt 1313; adj 365 wt 1362; sold to Gillette Farm, Lowell
705E P43792926 bw 90; 205 wt 758; sold to John Parks, Bronson
706E P43792932 bw 84; 205 wt 679; sold to Bob & Beth Babbitt, Grant

708E P43797090 bw 80; 205 wt 722; 3/22 wt 1310; adj 365 wt 1268; sold to R Farms, Grant
709E P43792914 bw 84; 205 wt 644; 3/22 wt 1250; adj 365 wt 1233; sold to Grice Farms, Rothbury

711E P43792924 bw 88; 205 wt 787; 3/22 wt 1305; adj 365 wt 1336; Fedewa Farms, Pewamo
712E P43792927 bw 88; 205 wt 696; sold to Marshall Sheldon, Gagetown
________________________________________________________________________________________________
Thanks to our Bull 2017 buyers:
Amanda Deuling - Newaygo, MI Phil Pritchard - Evart, MI
Templeton Farms - Homer, MI Luke Oosterhouse - Caledonia, MI
Olivia Jannert - Eau Claire, MI Dennis Glerum - Cedar Springs, M
Dan Youker - Grawn, MI Bancroft Herefords - Evart, MI
Hayes Farm - Paris, MI
Spring 2016 private treaty sales
503C sold to Kyle Lilly of Needmore Herefords, Mulliken
508C sold to Witteveens, Shelby
509C sold to Jerry & Patrick Fedewa, Pewamo
510C sold to Jackson Farm, Brohman
511C sold to Olivia Shirey, Bath
Seein' is believin' - COME AND TAKE A LOOK!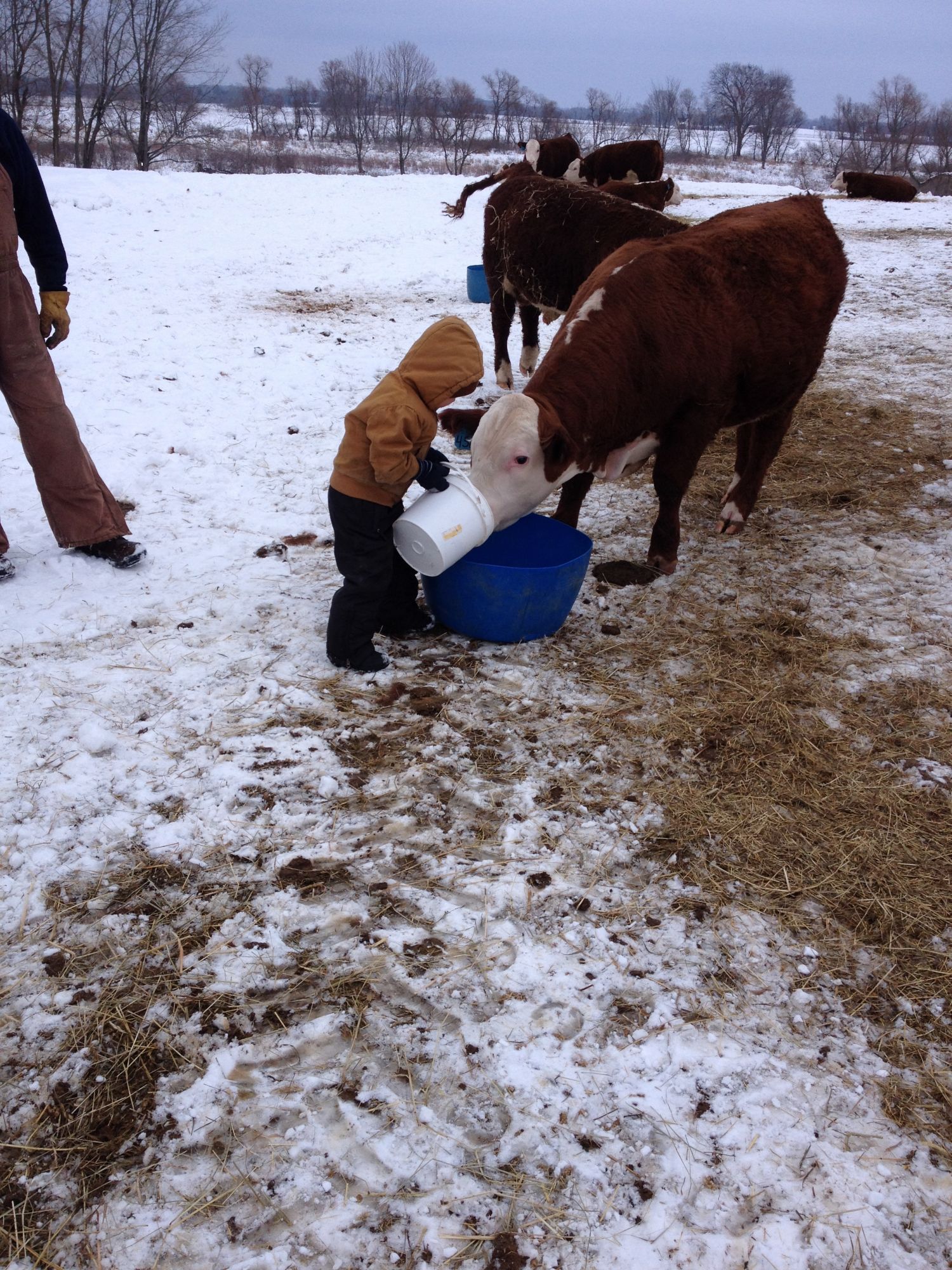 Feeding time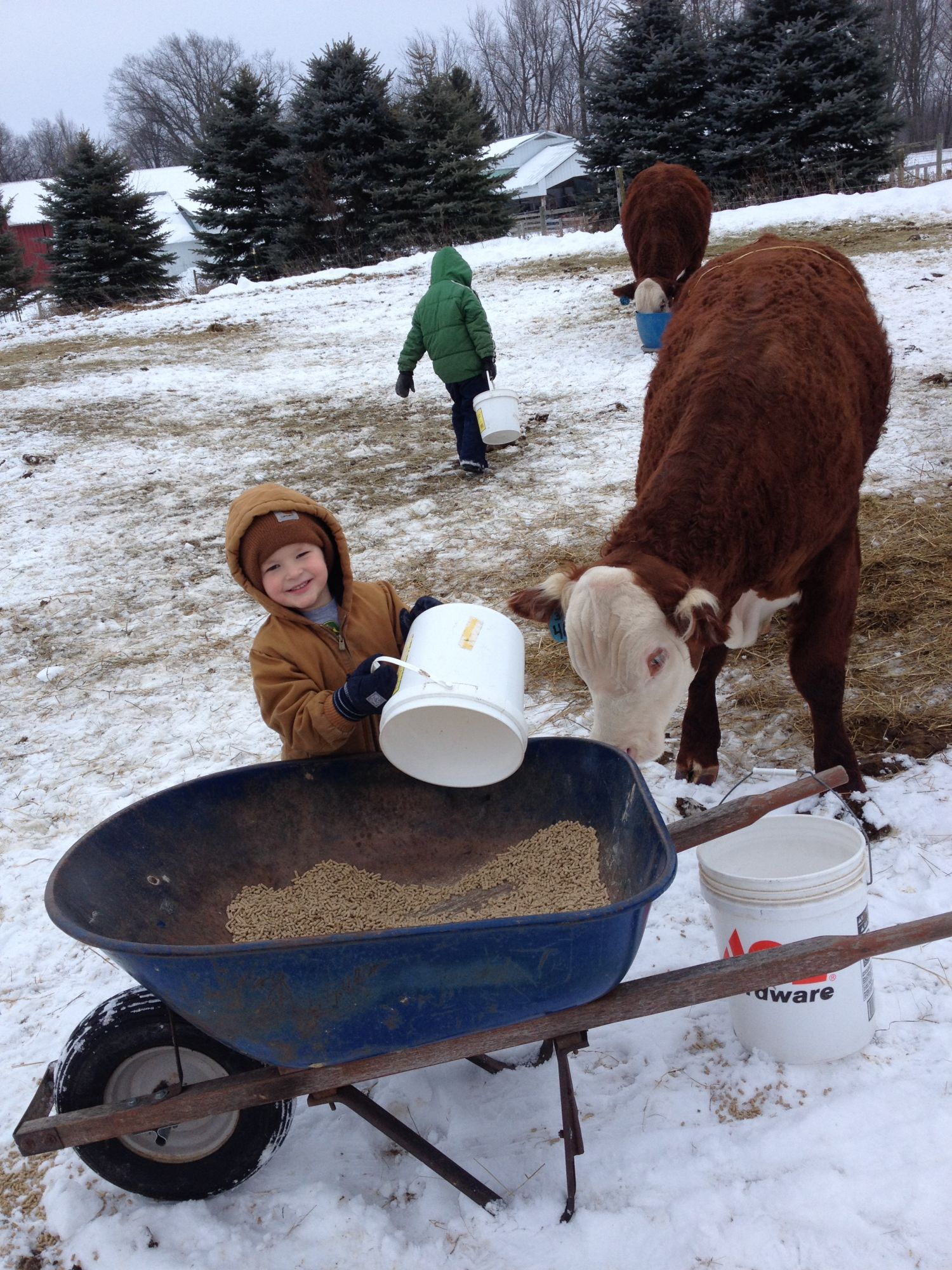 All bulls are halter broke.
Buyers at 2/26/15 PCR Online Bull Sale
Lot 1 450B Lot 2 456B Lot 3 453B Lot 4 454B
John Allen, Iowa Art Bienz, Springport Daniel Graham, Iowa Daniel Graham, Iowa

Lot 5 458B TWJ Farms Lot 6 452B Lot 7 457B Lot 8 463B
Blueberry Hill, NE Larry Moffett, IL Kevin Klink, Garden Kris Krey, Hemlock

Lot 9 455B Lot 10 461B Lot 11 464B Lot 12 459B TWJ Farms
Russell Wolthuis, Ionia Bill Rudat, Rothbury J. Miller, Byron Center Blueberry Hill, NE
Thanks to those who purchased PCR bred bulls thru Knoll Crest...
302A Fulcher Family Farms, VA
303A Mountain Lion Meadow Farm, Concord, VA
304A & 306A Temple Farm INC, Scotland Neck, NC
312A Oak Creek Farm of Virginia, Unionville, VA
314A & 315A Triple 2 Farms LLC
2013 private treaty bulls...
307A Thomas Neblock, Lake City, MI
309A Wells Polled Herefords, Grand Rapids, MI
317A Ronald Decker, Big Rapids, MI
Thanks to the buyers of our PCR 2011 & 2012 bulls!!
131Y John Orr, Blanchard, MI
133Y Philip Miller, Manistee, MI
134Y Charles Krepps, Ravenna, MI
135Y Gerald Dice, Millington, MI
136Y John Dush, Elsie, MI
137Y Chuck Scott, White Cloud, MI
138Y Oaklane Farm, Newaygo, MI
140Y Dan Murray, Grant, MI
141Y Robert & Pauline Bird, Howard City, MI
30X & 283Z Keith & Gail Olsen, Fremont, MI
268Z Butchhart Family, ( A&E Herefords) Grant, MI
276Z Circle C Farm, Copemish, MI
277Z Jerry & Patrick Fedewa, Pewamo, MI
279Z Doug DeWent, Hudsonville, MI
297Z Jon Garner, Vassar, MI
295Z Rob Yoder, Shipshewana, IN
265Z Hayes Farm, Paris, MI
266Z Jerry Roberts, Grand Rapids, MI